Crowne Plaza Fallsview
The 4-star Crowne Plaza Fallsview sits just steps from the Niagara Falls and is revered for its balance of world-class charm and modern refinement. Each of the 234 guestrooms and suites offer upgraded amenities, with many of them featuring spectacular views of the Niagara Falls. One of the Crowne Plaza Fallsview's greatest amenities is The Rainbow Room by Massimo Capra, a fine dining fallsview restaurant that features culinary creations from acclaimed chef, author, and television host, Massimo Capra. The Crowne Plaza Fallsview also offers indoor connections to Casino Niagara, Fallsview Indoor Waterpark, and Falls Avenue Resort.
Amenities
Indoor pool, whirlpool and kiddie pool
Starbucks Café
Indoor connections to Fallsview Indoor Waterpark, Falls Avenue Resort, and Casino Niagara
Rainbow Room By Massimo Capra
Connected to Indoor Parking
Concierge
Fitness Centre
Valet Laundry Service
Shopping Concourse
Room Service from The Rainbow Room by Massimo Capra
Full-service Business Centre
Cribs are available upon request at no charge
Cots are available upon request at $20.00 per day
Photos
Packages
Ultimate Couples Experience
Our Ultimate Couples Experience Package offers a taste of all there is to do at Falls Avenue Resort. Our 20-acre resort is home to two celebrity chefs, exquisite Fallsview dining, indoor access to Casino Niagara, and the spectacular Christienne Fallsview Spa.
Family Waterpark Getaway
The Fallsview Indoor Waterpark offers 3 acres of fun for your entire family. Our Waterpark Getaway Packages feature 4 waterpark passes that give you access to the park for two days, and exclusive early access to the park on select dates. Experience the 16 waterslides, Tiny Tots Splash park, Beach House Mammoth Aqua Play Area, giant wavepool, outdoor sundeck, activity pool & more. You will also enjoy direct indoor connections to the Sheraton on the Falls, Crowne Plaza Fallsview, and Skyline Hotel & Waterpark.
Niagara Winery Experience
Come and savour everything that our Niagara Winery Experience Package has to offer. This stay includes a guided tour and tasting at four of Niagara's award-winning wineries and includes transportation.
Ultimate Spa Experience
Our Ultimate Spa Experience package offers you a relaxing retreat at the Christienne Fallsview Spa, complemented by a spectacular view of the Niagara Falls. Come and relax while indulging in signature spa experiences that are sure to leave you feeling rejuvenated.
Ultimate Casino Experience
This experience connects you to the 24-hour excitement of Casino Niagara or Fallsview Casino Resort and allows you to experience the best in spa treatments, fallsview dining, and Niagara wine.
Room Categories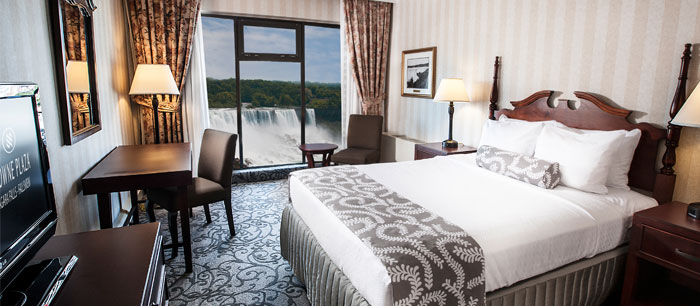 Superior Fallsview Guestrooms
A breathtaking view of both the American and Horseshoe Falls. Situated on the 11th-12th floors, our Superior Fallsview rooms feature floor to ceiling windows of the picture perfect view. Rooms on these floors also feature private elevator access.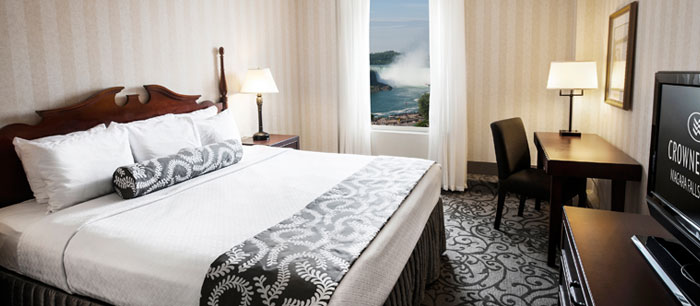 Fallsview Guestrooms
Our gracefully furnished Fallsview rooms offer a beautiful view of the American Falls. Fallsview rooms may adjoin upon request. This room is also available with one queen size bed upon request – this request is based on availability.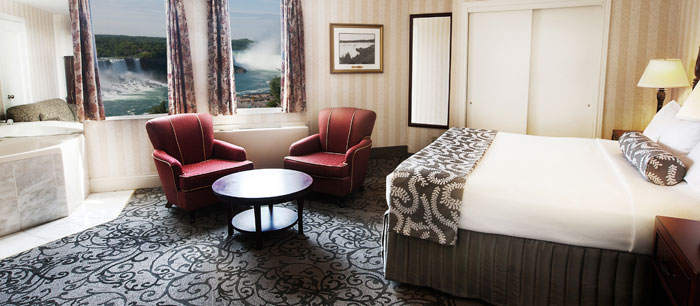 Superior Fallsview Jacuzzi
Fallsview rooms may adjoin upon request. This room is also available with one queen size bed upon request – this request is based on availability.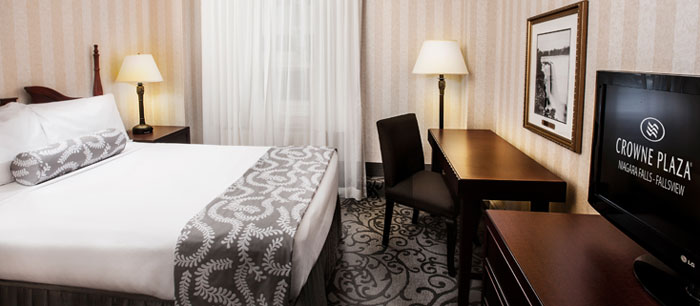 Traditional Guestroom
Our Traditional Niagara Falls hotel rooms offer one double size Deep Sleeper bed, and are now equipped with wireless internet access. The Traditional hotel rooms feature sitting area, in room coffee/tea, iron/ironing board, and a full bathroom with hairdryer.
Dining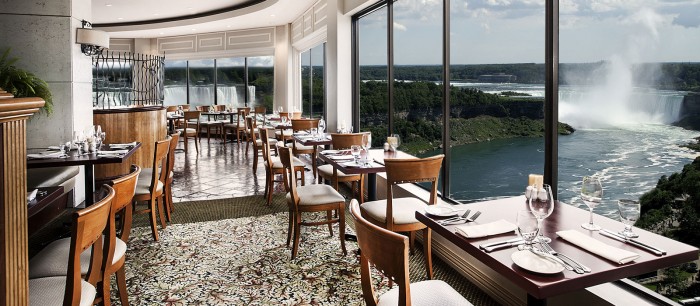 Rainbow Room By Massimo Capra
Warm and refined, The Rainbow Room by Massimo Capra is as inviting as the star chef's personality is large. Driven with a passion for culinary art, celebrated chef, author, and TV host Massimo Capra has created a distinctly Niagara menu,…