November 18, 2021 11:50 am
A festival of lights and lanterns will shine brightly in Niagara Falls from November 18, 2021 through February 27, 2022.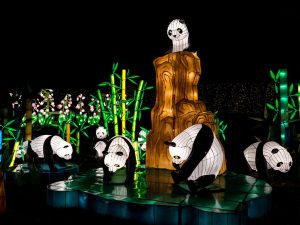 The Seasky International Light Show is a scenic 1.2 kilometre walking trail featuring over 30 giant illuminated themed displays. The exhibits represent nature, magic, holiday festivities, culture and whimsy. Each created by skilled artisans, the displays consist of dozens of LED light sculptures and thousands of lights which create a glowing and magical family experience in Niagara Falls this winter.
Set on a wooded lot with spacious design, the immersive walking trail will take guests about 90 minutes to wonder through the brilliant illuminations, as you most likely stop to take photos along the way.  Experience the beauty of nature in this outdoor adventure and the spectacular works of art that include pandas, dragons, cherry blossoms, magical constellations, songbirds, candyland and dinosaurs.
Seasky Light Show is an international show with many of the displays having been showcased at light festivals in 40 countries around the world. In addition, many of the illuminations have been featured by many well known international brands including Disney, Coca-Cola, Hello Kitty and more.
Purchase your Tickets today and experience the incredible displays!
For more information, visit lightshowinternational.ca
Categories: Falls Avenue Resort